Translation: "Everything's gonna be alright"
So this week I've been real bogged down with work– given that we're on week three of five of our classes, I'm essentially going through midterm week right now.
Sunday was my last day in Ireland, and I had a lovely last day with Jerry, Jerry, and Bronnie.
In the morning we went to the Kilbeggin Whiskey factory, the oldest continually operating licensed whiskey plant in the world. It was really fascinating to see all the old cogs that still turn the machines that make the whiskey, despite the rain. And, of course, being able to sample a "wee dram" as my grandma would call it.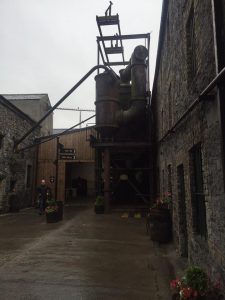 After that, we went on to visit the Newgrange neolithic tomb! It really is incredible to be standing in something that is literally thousands of years old. The passageway to the inner chamber is incredibly short; best watch your head if you plan on visiting! At the entrance is a square opening, and as you enter you gradually rise a couple meters. This is so that on the Winter Solstice, at exactly the right time for 20 minutes during that day, the sun shines perfectly through the opening, illuminating the whole inner chamber. While I wasn't there for the Winter Solstice, we did get to see a simulation, which was still very impressive! Another fun fact: the tomb was built so well that it has not leaked since it was built: it's been dry inside for thousands of years (a very impressive feat if you know anything about the typical Irish climate..) In fact, its so well-preserved that you can still see ancient carvings on the walls. Unfortunately, no pictures are allowed inside so here's a picture from the outside.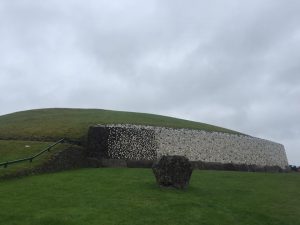 Our final stop was a cemetery outside of Dublin where approximately a million people are buried. To give you some perspective, the Irish population is about 4.5 million. It's not just known for the amount of people buried there, but also the fame of its residents (Is that even the right word? Occupants?). Many leaders of Irish revolutions are buried here as well, along with other historical celebrities. Even if you aren't familiar with those people, simply seeing the wide expanse of the cemetery is just as breathtaking, and looking at all the different headstones is also a very engrossing activity.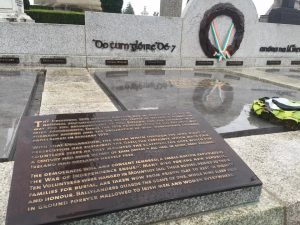 Alas, the time came to say goodbye to my newfound friends, and at 3:45am I departed Dublin for Edinburgh and arrived with time to spare before my first class. 3:45, you say, why Kim, you must have been exhausted! Oh, I was, believe me. But I also had a fantastic day. After class, we went to yet another museum gallery, and I got to see many beautiful paintings painted by famous painters (how many paintings could a painter paint if a painter could paint paintings….) such as Van Gogh, Monet, Rembrandt, and el Greco. I was absolutely delighted.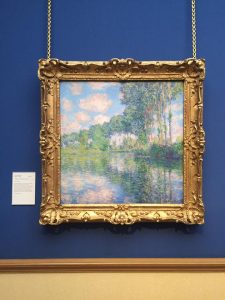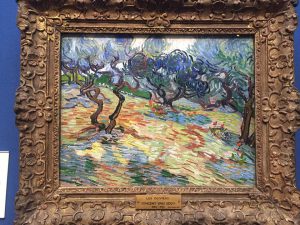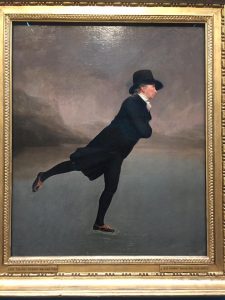 When I finally left the gallery, to my delight I discovered I had left at just the right moment. Upon exiting, I came upon a street band called the Spinning Blowfish consisting of a guitarist, a bagpiper, and a drummer. They were fantastic, and a great addition to my day. Fun fact about me: I love bagpipe music! So you can imagine my excitement at being greeted by this lovely surprise! I must have stayed for about an hour listening to them play. They were quite good, very silly and energetic!
My fantastic Monday continued with watching Brave for our weekly movie session and our TA providing us with delicious homemade tiramisu.
Unfortunately, the rest of my week has been quite busy– stuck inside doing homework and projects and such. However, a couple highlights: doing an ergo session with the rec rowing club (and getting dinner afterwards) on Thursday and a circuits session on Friday.
Today, Saturday, I went on a day trip with a bunch of other Arcadia-study-abroad students to the lowlands. Despite their name, they are in fact quite hilly. Our first stop was a 900 year old estate where the Stuarts (including Mary Queen of Scots herself) used to stay. It's a privately owned house, but you can stay there as a B&B (not for the superstitious– a ghost is rumored to haunt it).
((I would post photos from this trip but unfortunately my computer isn't uploading my pictures! Pity!))
After that we stopped in the town of Melrose where we got lunch, and I had a Scotch Pie (a mutton pie) that was so delicious it nearly brought tears to my eyes (It is worth noting that I was also very hungry at this point) and some wonderful ice cream.
After that we investigated the Melrose Abbey, a medieval abbey that fell into disrepair when King Henry the VIII sacked it. Interestingly, you can go and see where Robert the Bruce's heart is buried (AKA the real Braveheart's heart… remember how I mentioned that in one of my earlier posts?)
Our final stop was the Rosslyn Chapel, a beautiful chapel said to play a role in the Da Vinci Code (I have personally never read the book so I can neither confirm nor deny). The carvings are very intricate (no pictures allowed inside, unfortunately–not that I could upload any right now anyway) and chock full of religious themes. Perhaps more interesting are the conspiracy theories that abound surrounding the bizarre amalgam of carved symbols throughout the small church (Click the link!!! It's worth a read! At the very least see some pictures).
Not much else to add, I'm afraid. Just being very busy busy busy doing work.
'Til next time,
-Kim "Loves Scottish Meat Pies" Winter